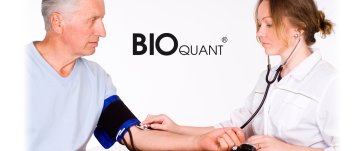 The research was performed on the same strain of probands using the same methodology as in the first research on the LED device. This research on the NS device was added by patients with covid diagnosis, patients with degenerative brain disease and athletes. The advantages were that the original strain of probands (20) could also subjectively assess the effects of LED / NS in comparable types of training.
---

Using the Bioquant circular-polarized blue light and Bioquant NS circular-polarized red light.
Patient aged 77 years, male, BMI over 30%, a waist circumference greater than 100 cm, arthritis uric (DNA), vaccinated against influenza. Unhealthy lifestyle. Smoker - 15 cigarettes a day, mild hypertension, takes the following drugs: Dopegyt, Phytofontana Viro stop mouth spray, Phytofontana Viro stop pills, Vitamin C, Multivitamin.